Latest News
Latest News
NUAST's 'Three Musketeers' set for Cambridge!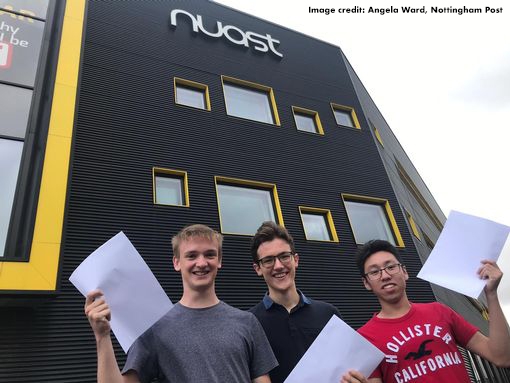 Students at NUAST, Nottingham's outstanding STEM sixth form, were celebrating this morning after securing a truly remarkable set of A-Level results. 55% of students achieved A*–A grades. 89% secured A*–C grades.
Sponsored by The University of Nottingham and run by the Nova Education Trust, NUAST has now been open for five years and continues to develop a reputation as one of the leading STEM GCSE and A-Level providers in the East Midlands. The academy received an overall Ofsted grade of 'Good' in June 2017, with the sixth form being judged 'Outstanding' during the same inspection.
Best friends Bruno Truben, Zongyuan Wang and Isaac Dixon, all chose NUAST as the place to study for their A-Levels after attending secondary school together.
The three friends achieved an astonishing nine A*s between them, and the trio have all been accepted to Cambridge to study Mathematics, Natural Sciences and Computer Science respectively.
Isaac, 18, said:
"Knowing my two best friends are coming with me to Cambridge is fantastic! Whilst I'm really looking forward to meeting new people, it always helps to have someone you know when starting somewhere new—we can help each other. I want to get into software development as I love the challenge of problem-solving and then at the end that can achieve something amazing. If I had the chance I'd love to do an internship with IBM, as artificial intelligence really interests me."
Bruno, 18, stated:
"University life and working with others who share a passion for Maths is what I'm really looking forward to. I didn't even think of applying for Cambridge until NUAST encouraged me—the teachers here are so good and played a huge part in getting me my grades."
Zongyuan, 18, commented:
"I'm really looking forward to going to Cambridge and take my passion for science to the next level. I want to specialise in Physics and learn more about how the world around us works."
Theone Ellis is a remarkably talented female physicist who will be heading to Oxford University to study Physics after also achieving three A*s.
Kyle Swinburne will be joining BAE Systems as a higher apprentice having achieved remarkable grades of three Distinction*s in BTEC Engineering and an A* in A-Level Product Design.
Bob White, Principal of NUAST, commented:
"NUAST opened five years ago and at that time, there was a good deal of comment that Nottingham did not need a specialist science engineering and maths school.

What this year's set of results demonstrates is the value of Nottingham's specialist STEM school that is linked to the University of Nottingham in raising aspirations and enabling Nottingham students to go to the very best universities in the world.

With 55% of NUAST students securing A*–A grades, the incredible potential of Nottingham's young people is being realised. NUAST accepts students from both the city and county and after five years it has established itself as one of the highest performing A-Level providers in the East Midlands.

None of this would be possible without our partnerships with both the University of Nottingham and local and national employers. Their involvement has not only enabled access to the UK's top universities, but also to incredible employment opportunities through higher apprenticeships with students joining companies such as BAE Systems, Rolls-Royce and JCB. These apprenticeship schemes allow students to earn whilst studying at university, with all university fees being paid by the employing company.

The immense pride I feel in our students' achievement is matched by my anticipation in following their success as they move through university and into future employment."
November 2019
| M | T | W | T | F | WE |
| --- | --- | --- | --- | --- | --- |
| | | | | 1 | 2 |
| 4 | 5 | 6 | 7 | 8 | 9 |
| 11 | 12 | 13 | 14 | 15 | 16 |
| 18 | 19 | 20 | 21 | 22 | 23 |
| 25 | 26 | 27 | 28 | 29 | 30 |