Partnership Work
Partnership Work
Nottingham University Hospital (QMC) - a&E department April 2016
The A&E department from the QMC is working with NUAST to deliver training to our students on first aid and basic life skills. Our Year 10 students are the first to benefit from the training which has been hugely successful. Students now feel equipped to deal with both minor injuries as well as cope with giving CPR.

University of Nottingham, Ambition Nottingham - January 2016 onwards
Ambition Nottingham is a scheme that provides up to date information, advice and guidance to students to ensure they are making informed decisions when choosing future options and to support their current studies. We have specially selected a group of Year 10 students to take part in the scheme, as they have shown an excellent commitment to their studies and demonstrated their potential to progress to higher education.
Students will benefit from an online Exams Tutor subscription, university taster days and GCSE revision days.
Nottingham Trent University Mentoring Scheme - January 2016 onwards
Part of our partnership work with Nottingham Trent University (NTU) involves our Year 10 and Year 11 students benefiting from one-to-one mentoring sessions from trained mentors, from NTU. The sessions are tailored to meet individual needs and may involve revision and study strategies, careers advise and subject specific tutoring.
Careers Convention - 24 November 2015
On 24 November we held our first "Careers Convention" at Nuast. This involved all students from Years 11 and 13. The half day convention was launched by the STEM ambassador Richard Smith, who talked about how to impress an employer and top tips for interviews. All students then took part in a practice interview given by our partners Siemens and Experian as well as participating in a series of workshops delivered by independent Career Advice and Guidance Practitioners. Workshops focused on career planning with a focus on science, engineering and IT, apprenticeships and higher education courses.
Work Experience - 19th-23rd October 2015
Our Year 11 students are undertaking a week of work experience from 19th – 23rd October. Students are going to a range of different companies including Experian, SMS Electronics, Siemens and QMC. This should give them an invaluable insight into the world of employment. It should also help them to make a more informed decision about higher education and future careers.
NTU (Nottingham Trent University) - 15 October 2015
Nottingham Trent are delivering sessions this afternoon to all our Year 10 students on "University, what's the point".
Visit to Nuast by Martin Ivens (Editor of Sunday Times)
Nuast hosted a visit yesterday by Martin Ivens who is the Editor for the Sunday Times. Martin had a tour of the building, visited some classes and spoke to students during an "Ask the Editor" session. Students enjoyed speaking to Martin and learnt about his work in editing the paper as well as how he stays informed about it's readership in a digital world.
C Smith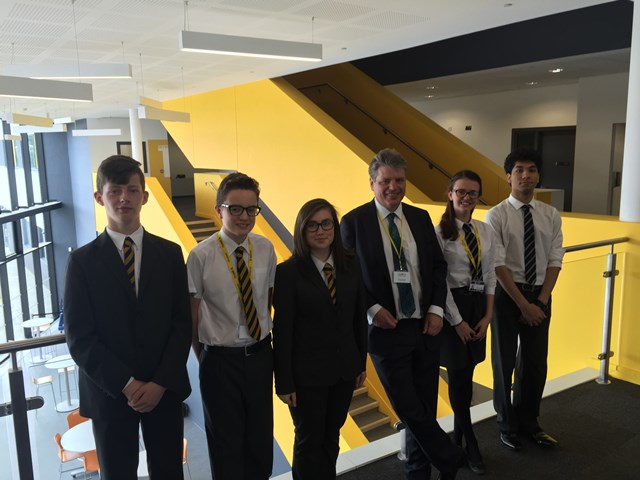 National Citizen Service - Year 12
The National Citizen Service are coming into school to deliver an assembly to year 12 re their summer outward bound residential programme on Tuesday 3 March.
The programme will offer you a fantastic opportunity to develop your self-confidence and interpersonal skills as well as teamworking, communication, presentation and leadership skills whilst being great fun!
Time: 8.15 Venue: Science breakout area See you there!
Engineering Conference
NUAST played host to some 60 businesses on Wednesday 25th February. It was the first time most of these local employers had been inside the academy and it proved to be time well spent not only for the visitors but also for the teaching staff as links were made that could benefit both groups.
Toshiba Laptop Repair Scheme
All of our students were given the fantastic opportunity to apply to become Toshiba Laptop Repair Technicians. They all received training on job applications and interview techniques from the University of Nottingham and successful applicants went forward to interview with a panel including Toshiba Representatives.
Eight students then progressed to a two day training on laptop repair from Toshiba.
After successful completion of the course and examination students will now receive Toshiba certificates and laptop repair kits.
They will start work in school on repairing laptops with the IT Support Technician.
Congratulations to all!
Caroline Smith (Assistant Principal)

The University of Nottingham funds Leadership Activity Day for year 12
The NUAST students in year 12 endured a packed schedule of challenging activities including orienteering, a double level adventure high ropes course, mini-golf and an off-road Segway challenge at the Holme Pierrepont Country Park. The day was fully funded by our main sponsor The University of Nottingham. The aim was to develop and enhance leadership skills as well as develop confidence and skills in working together as a team. Students came back safe, sound and smiling from ear to ear. Well done and thank you for representing NUAST!
Caroline Smith (Assistant Principal)
Calling all year 12 students!
"IntoUniversity" are delivering workshops to Year 12 students on Tuesday 10 March. All students will benefit as the workshops will encompass wider career choices as well as University courses and the application process via UCCAS. Venue: 0.66 Time: 3.35-5pm
See you there! Mrs Smith
November 2019
| M | T | W | T | F | WE |
| --- | --- | --- | --- | --- | --- |
| | | | | 1 | 2 |
| 4 | 5 | 6 | 7 | 8 | 9 |
| 11 | 12 | 13 | 14 | 15 | 16 |
| 18 | 19 | 20 | 21 | 22 | 23 |
| 25 | 26 | 27 | 28 | 29 | 30 |