Welcome to the Business Department
Business
Our curriculum journey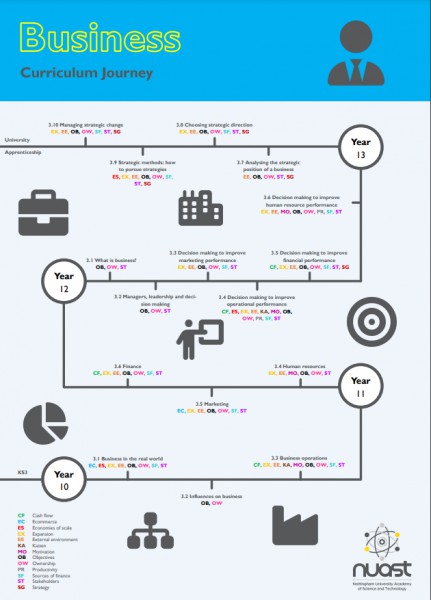 We offer Business from Year 10 - Year 13.
Curriculum Intent: Business
Writing a convincing report, presenting a winning pitch and even drafting the right email requires having excellent communication skills. We study Business to develop these key skills by analysing cases, diplomatically responding to conflicting opinions and learning how to get buy-in from peers and colleagues.
Business at NUAST develops many important skills in our students, such as numeracy, literacy, ICT, problem solving, information collecting, as well as analytical, evaluative and social skills. Students partake in a considerable amount of group study, practical activities and project work.
The sum of Business is far greater than simply its parts. All young people are stakeholders in society and as each individual enters the world of work, continues onto further education or even chooses to run their own business, all will take up their role in the global community. All will have the right to vote within a few years' time. Social and environmental issues already affect them, as does the government's provision of services. Thus, in dealing with these issues, Business is a hugely important, relevant and useful course to young people.
December 2023
| M | T | W | T | F | WE |
| --- | --- | --- | --- | --- | --- |
| | | | | 1 | 2 |
| 4 | 5 | 6 | 7 | 8 | 9 |
| 11 | 12 | 13 | 14 | 15 | 16 |
| 18 | 19 | 20 | 21 | 22 | 23 |
| 25 | 26 | 27 | 28 | 29 | 30 |