Welcome to ICT & Computer Science
Computer Science
We offer a range of courses from Year 7 to Year 13.
Our Curriculum Journey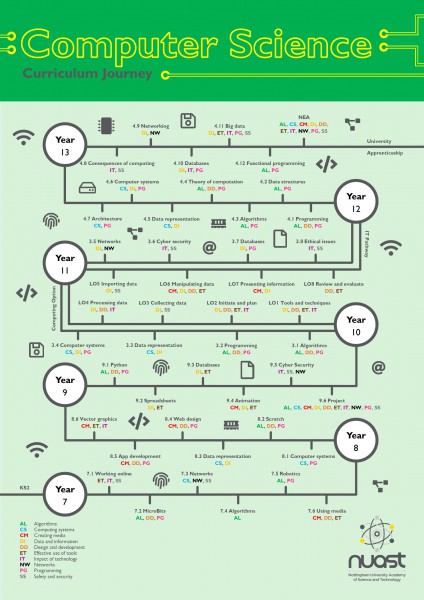 Curriculum Intent: Computer Science and ICT
As part of a STEM academy the Computer Science and ICT department encourages students to investigate, be inquisitive and think logically. Our students gain an appreciation of how Computer Science and digital creativity enhance and affect our everyday lives. The most important aspect of Computer Science is problem solving, an essential skill for life. Our curriculum inspires students to use computational thinking and programming skills to build solutions to complex problems.
Nottingham City's economic development plan identifies Computer Science as a key focus in our emerging digital economy. The close links students make with local industry and Universities underpin our curriculum and enhance knowledge of career pathways for our students into the computing industries and beyond.
Pathways
Students in Year 10 can opt to take the Computing Pathway which is two qualifications over two years; IT and Computer Science.
Students also have the option to take the Computer Science GCSE as a separate subject if they opt for the Engineering Pathway instead.
We also offer A-level Computer Science and Cambridge Technical IT at KS5.
December 2023
| M | T | W | T | F | WE |
| --- | --- | --- | --- | --- | --- |
| | | | | 1 | 2 |
| 4 | 5 | 6 | 7 | 8 | 9 |
| 11 | 12 | 13 | 14 | 15 | 16 |
| 18 | 19 | 20 | 21 | 22 | 23 |
| 25 | 26 | 27 | 28 | 29 | 30 |