Latest News
Latest News
Congratulations to our Year 7 and 8 Mathematics champions!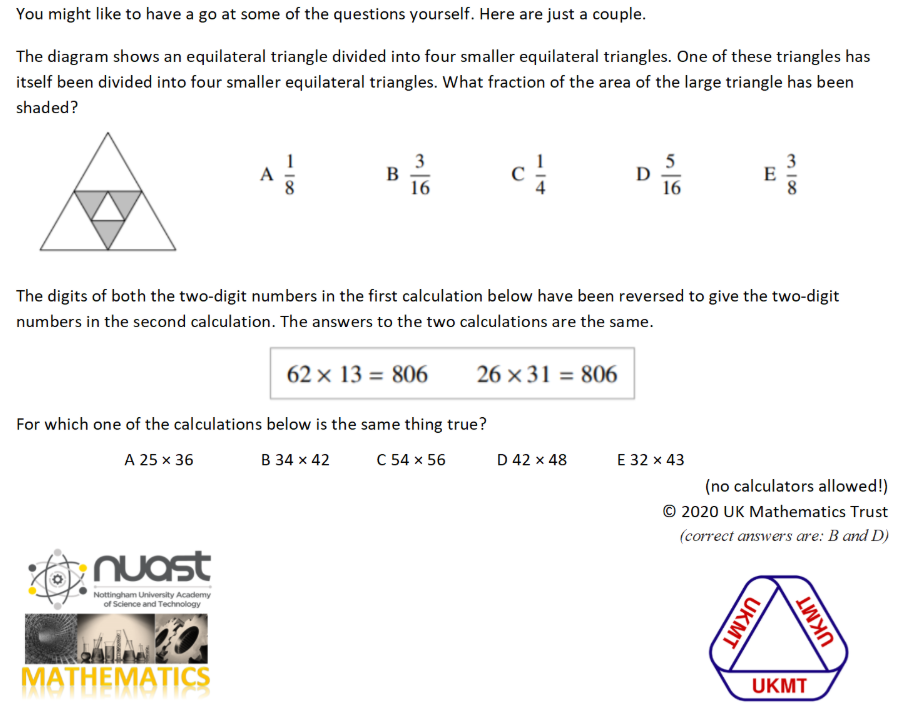 0n 23rd June 2020, sixty of our year 7 and 8 students took part in the Junior Maths Challenge - a national competition run by the UK Mathematics Trust (UKMT). This is the UK's biggest national maths competition, each year involving around 600 000 students from 4000 schools from across the country in the three tiers of challenge aimed across the secondary age groups. Our Junior Mathematics Challenge competition was originally scheduled to take place at NUAST in April but the organisers relaunched the competition as an online event in response to Covid-19 school closures.
We are proud to announce an outstanding achievement with a significant number of our year 7 and 8 students being awarded certification for their performance.
Gabriel and Adam both earned a Gold certificate, which is a fantastic achievement. Silver certificates were awarded to Evie, Max, Mashari, Kaito, James and Max, with Mashari earning the highest score in year 7. A very impressive eighteen bronze certificates were earned: Aksel, Oliver, Hayder, Sindar, Ali, Ellie, Jai, Travis, Evie , Hasaan, Caiden, Jacen, Charlie, Joel, Emma, Alexander, George and Anastasia. Congratulations to you all!
May 2022
| M | T | W | T | F | WE |
| --- | --- | --- | --- | --- | --- |
| | | | | | 1 |
| 2 | 3 | 4 | 5 | 6 | 7 |
| 9 | 10 | 11 | 12 | 13 | 14 |
| 16 | 17 | 18 | 19 | 20 | 21 |
| 23 | 24 | 25 | 26 | 27 | 28 |
| 30 | 31 | | | | |