Design Engineering A-Level
Design Engineering
What is Design Engineering?
Design Engineering is an inspiring, rigorous and practical subject. In formulating this specification, OCR worked closely with representatives from higher education and industry professionals to ensure that the direction of the qualification fulfills the requirements that support progression. There has also been a focus on ensuring the content reflects authentic practice, as best as it can within the school environment, giving an insight into the way that creative, engineering and/or manufacturing industries function. Learners are thus enabled to make the connection between the knowledge, understanding and skills they develop and how this will benefit them in the future.
Learning about Design Engineering at A level strengthens learners' critical thinking and problem-solving skills within a creative environment, enabling them to develop and make prototypes/products that solve real-world problems, considering their own and others' needs, wants, aspirations and values.
How are you assessed?
Design Engineering is offered by OCR and consists of 2 examinations and 1 Non-Examined Assessment.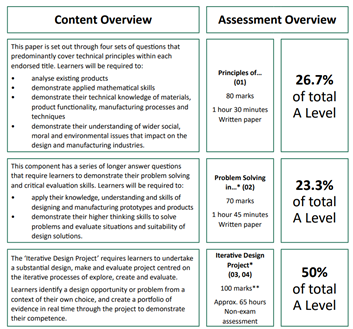 What will you be doing?
Year 12
In year 12 you will learn the theory required for the subject. Focusing on areas such as:
Material Science
Product Design
Structures
Mechanisms
Electronics
Learning through practical projects to expand their experiences in preparation for the NEA in year 13.
Year 13
In year 13 students have the opportunity to put their new found knowledge to the test by designing, developing and building a Systems based product, working with a stakeholder to refine their design.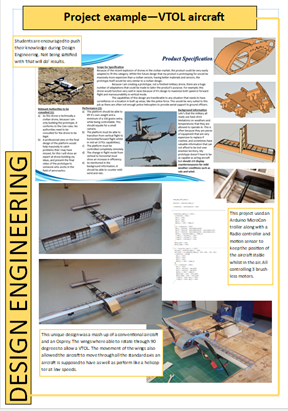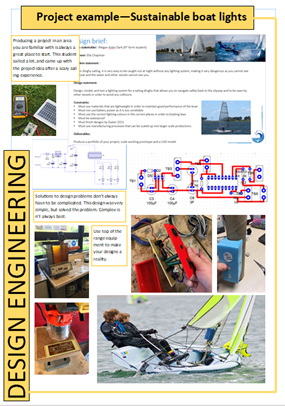 December 2023
| M | T | W | T | F | WE |
| --- | --- | --- | --- | --- | --- |
| | | | | 1 | 2 |
| 4 | 5 | 6 | 7 | 8 | 9 |
| 11 | 12 | 13 | 14 | 15 | 16 |
| 18 | 19 | 20 | 21 | 22 | 23 |
| 25 | 26 | 27 | 28 | 29 | 30 |